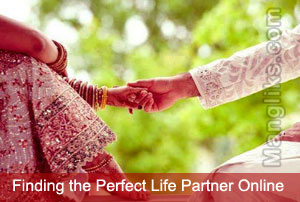 All of us spend a major part of our lives looking for that perfect love which will tend for us, take care of us, give us comfort and jointly help make sure that you life a life of happiness, harmony and complete bliss. What most people tend not to realize is that to be able to achieve this requires a lot of hard work and effort.
For the purpose of finding the perfect life partner, simply registering with matrimonial websites is not enough. In fact it is just the beginning. When you register with a matrimonial website, you should first have complete clarity on what it is exactly that you are expecting out of your own life as well as from your life partner. Let's go through these ideas which will help you find the perfect spouse for you online –
1. Any online matrimonial website is going to give you access to thousands of profiles of prospective brides and grooms. How would you recognize the perfect match for yourself? To begin with, it is important for you have a fair idea as to what you want him or her to be like. Each individual has their own set of ideas when it comes to the 'perfect love'. Try to make your judgment on factors such as likes, dislikes, goals in life, ideas, attitudes and belief systems.
2. Every time you interact with a potential life partner from the website, try to mental cross of these items from the list and tally the areas where you are compatible and where you aren't to make an unbiased an informed decision.
3. However exciting it may sound to have a life partner who is extremely good looking or rich, the fact of the matter is that it is the non-materialistic things that will help you create a strong and long lasting marriage.
In addition to gauging what you want out of your life partner, also remember to have a fair idea of what you expect out of your relationship. Through the conversations you have with him or her try to gauge whether or not he or she will be able to fulfill those needs. It is important to be realistic and also remember that every relationship is a two way street. You get as much as you give.