Posts Tagged 'matrimonial website'
Hindu scriptures recognize a husband and a wife has two halves of a single divine body. With the intention of a lifelong union between a man and a woman, a Manglik matrimonial is a ceremony which joins two lives together so that they can continue leading a life of respect, harmony and love. The union signifies their journey where they promise to stay together in happy as well as tough times and promise each other to pursue their worldly duties in sync with each other's common goals. The crux of an Indian Manglik Matrimonial is sacrifice for the other person's happiness.
The ideals of Artha, Dharma, Kama and Moksha
Manglik Matrimonial ceremonies preach the concepts of Artha, Dharma, Kama and Moksha. Artha talks about one's physical possessions; Dharma typically means duty. It is believed that both the husband and wife in a Hindu marriage must pursue their duties while they lead their marital life together. Kama refers to physical pleasures and Moksha means the release of one's spirit from all worldly affairs.
The above mentioned ideals are the key to a successful marriage and the Indian scriptures urge every married couple to implement them in their own lives. When a man and a woman attain union through marriage, they are able to together gather wealth in the form of financial riches, intellect and emotional strength which allows them to pursue healthy lives and also create a healthy family together.
The intimate connection that a man and woman achieve is able to manifest into the universal law of procreation, through the birth of their children. And finally, every manglik matrimonial leads towards Moksha, which is a spiritual release of one's soul from the physical body.
The Role of a Husband and a Wife in a Hindu marriage
Even the roles a husband and wife play in a Hindu marriage take influences from the ideals mentioned above. The promises that a bride and groom make for each other revolve around the concept of sacrifice, love, respect, and faith. Based on these principles, Indian brides and grooms are able to create themselves a life of love and happiness.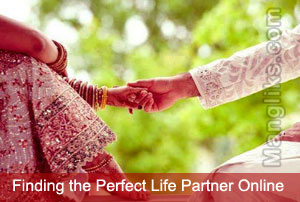 All of us spend a major part of our lives looking for that perfect love which will tend for us, take care of us, give us comfort and jointly help make sure that you life a life of happiness, harmony and complete bliss. What most people tend not to realize is that to be able to achieve this requires a lot of hard work and effort.
For the purpose of finding the perfect life partner, simply registering with a matrimonial website is not enough. In fact it is just the beginning. When you register with a matrimonial website, you should first have complete clarity on what it is exactly that you are expecting out of your own life as well as from your life partner. Let's go through these ideas which will help you find the perfect spouse for you online –
1. Any online matrimonial website is going to give you access to thousands of profiles of prospective brides and grooms. How would you recognize the perfect match for yourself? To begin with, it is important for you have a fair idea as to what you want him or her to be like. Each individual has their own set of ideas when it comes to the 'perfect love'. Try to make your judgment on factors such as likes, dislikes, goals in life, ideas, attitudes and belief systems.
2. Every time you interact with a potential life partner from the website, try to mental cross of these items from the list and tally the areas where you are compatible and where you aren't to make an unbiased an informed decision.
3. However exciting it may sound to have a life partner who is extremely good looking or rich, the fact of the matter is that it is the non-materialistic things that will help you create a strong and long lasting marriage.
In addition to gauging what you want out of your life partner, also remember to have a fair idea of what you expect out of your relationship. Through the conversations you have with him or her try to gauge whether or not he or she will be able to fulfill those needs. It is important to be realistic and also remember that every relationship is a two way street. You get as much as you give.
People often tend to get confused when they register with an online matrimonial website. While the entire experience is pretty simple, it is imaginable that brides and grooms may get nervous over making the right impression and hence make certain mistakes that may cost them dearly.
Here is a list of common mistakes to avoid when you register with an online matrimonial website:
1.      Do not Over Crowd Your Profile Page – The more concise and crisp the information, the more interesting is your profile. Many registrants tend to make the mistake of writing long essays to describe themselves. One tends to lose the point halfway through the essay leading to boredom and the likeliness of fewer people will show interest in your.
2.      Putting up the Wrong Set of Pictures – One has to be very careful about the kind of pictures you choose to upload on your profile. Do not make the mistake of uploading outdated and unrealistic pictures of you. It is ideal that as a potential bride or groom, you put up about 2 -5 flattering and accurate pictures of yourself. In an Indian setting, you can also choose to post some pictures in traditional as well as western attire. Try to portray a humble and true attitude through the pictures and get them taken professionally if possible.
3.      Do not lie on these Websites – The biggest mistake one can ever make is to lie on your profile. First, most popular websites have a stringent background checking policy, and on the other hand if your profile gets reported, it is likely that you will not be able to register back  on the website every again.
4.      Interacting with Other Profiles – Do not get nervous when you are interacting with other registrants you feel you are interested in. Try to keep it real and the first time you message a potential candidate, try to be friendly, and say something thoughtful about his or her profile. In addition to this, make sure your grammar is correct and you draft a well thought out response to messages that need to be replied to.
With the right intentions and confidence, you will be soon on your way to the wedding hall, starting a life of happiness, companionship and love.
While marriages are made in heaven, it is up to us to find that perfect someone somewhere who is made for us. The introduction of online matrimonial portals has taken the search of a life-partner to a completely new dimension and revolutionized the way arranged marriages are conducted in India.
These websites help you find the perfect bride or groom yourself by allowing you to browse through profiles of other registrants and interacting with them to gauge whether or not you have found your perfect match.
With so many different kinds of websites cropping up on the web, it can get difficult to understand whether or not you are registering yourself on a credible website that is going to help you find the perfect life partner. Here is a list of factors that you need to check before you choose to register with a Manglik Matrimonial Website:
1. Credibility of the Website: Try to go through online reviews and talk to people to understand the true credibility of the website. Go through complete information of the site and gauge how popular it really is.
2. Credibility of Registrants: Before you give away any personal information, first make sure that the profiles of other registrants don't look fraudulent and are genuine. If you see any kind of disconnect in the type of information that is put on the profiles of these users and this is a frequent occurrence then avoid pursuing any match making initiatives on the Manglik Matrimony website.
Do a stringent check on the person, cultural know-how, family background, health, financial background, cast and ethnicity before jump to any conclusions positive and negative. Also go through the privacy policy of the website you are registering with to make sure your information is not being misused and is in safe hands.