Brides should dress to impress on their wedding day. This includes gorgeous hairstyles, gold jewelry, and bridal makeup that is authentic to Kerala. However, many modern brides are now aware of fashion's significance and want to wear a traditional look with a contemporary twist. Because of this, many brides attempt a more modern makeup look for their wedding day. Additionally, it is essential to keep in mind that simple attire is the secret to a fresh appearance.
Mehndi: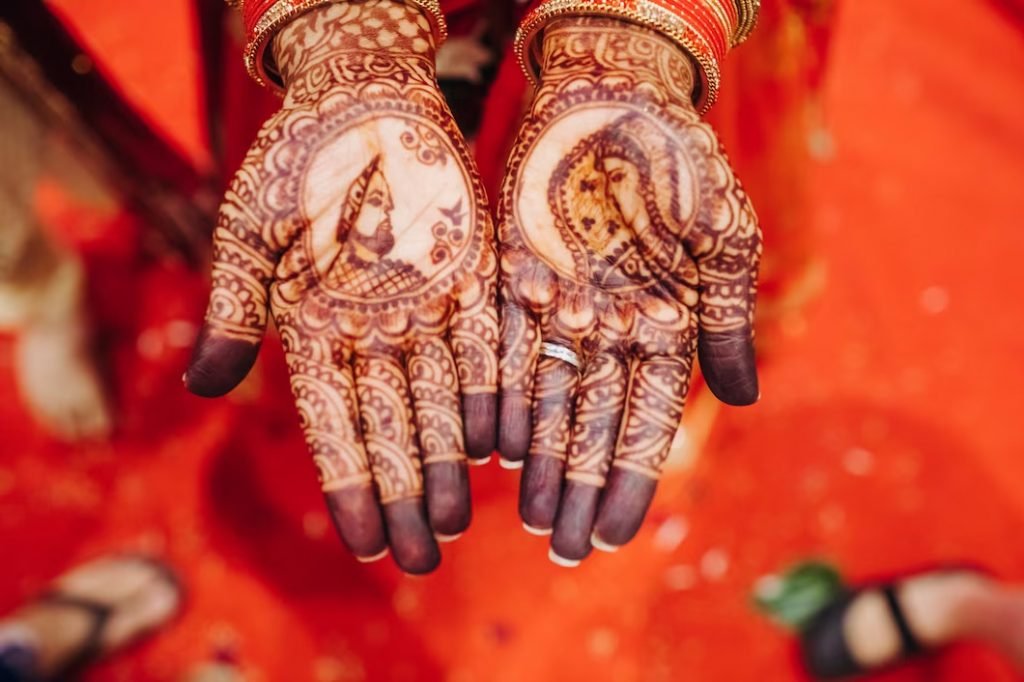 Mehndi wedding cosmetics is a customary Indian ceremony, one of the most basic parts of the big day. Mehndi is a traditional adornment that is applied to the bride's palms in Kerala. The bride wears a stunning sari with borders from the saree. Makeup is used to highlight the bride's eyes, and the rest of the makeup is kept to a minimum.
A bright and glowing base enhances the mehndi makeup best. The pastel pink wedding dress and the jewels will look great with a bold mauve smokey eye. She will also look stunning with high cheekbones and gorgeous lashes. Her entire look will look more polished with thick eyeliner.
Mehndi is a traditional Indian custom that is highly regarded by all Indian girls. This ritual also gives you a chance to show who you are. Kerala has a lot of talented makeup artists who have a lot of experience making makeup that looks good and lasts. In addition, many provide additional services like HD/airbrush makeup and hair styling.
The best craftsman will assist you with putting your best self forward and make your mehndi service extraordinary.
Make sure that your hair and makeup match your dress to make your eyes stand out. The bride's jewelry and dress, for instance, will be complemented by coral and muted pink makeup. Additionally, a subtle pink lip would be appropriate.
Smoky-soft eye: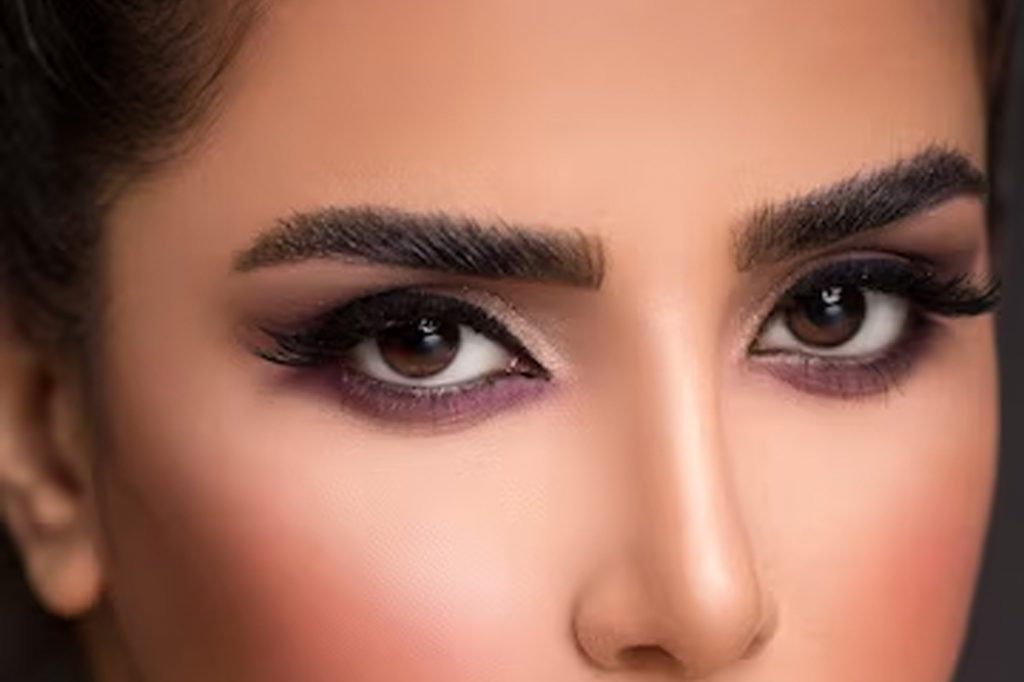 If you want to look beautiful and glamorous on your wedding day, go with a smokey eye look. It is one of the most recent bridal makeup trends and will undoubtedly give your face a lot of drama. Start by applying a single layer of mascara and a thin line of eyeliner to achieve this look. You can also give your face an enticing, dazzling appearance by applying mascara and a little lipstick.
Smoky eye makeup: This look is great for a brave lady who won't hesitate to explore different avenues regarding cosmetics plans. The smokey eye makeup look is a great way to combine modernity and tradition. The look features contoured cheeks, thick kohl-rimmed eyes, and dark matte brown eye shadow. The eye makeup should coordinate with the blush and lip color.
Smoky eyes make your almond-shaped eyes look better and give your skin a natural glow. With this look, long, curled lashes look stunning. A hint of glitter is also added to the lids to enhance the eyeshadow. You can wear this look all day or at night.
Kerala wedding and bridal makeup ideas call for a subtle smokey eye look. It is adaptable and looks great on all skin tones. Either a bold lip color or a subtle blush can be paired with it. The lipstick should be a light shade that still provides a pleasing contrast to the eyes.
Numerous pieces of jewelry and fresh flowers are used in Kerala bridal makeup ideas. Traditionally, the bride is adorned with jewelry with a temple motif or design. She also wears extravagant garlands of Jasmine flowers, which complement her hairstyle.
Metallic: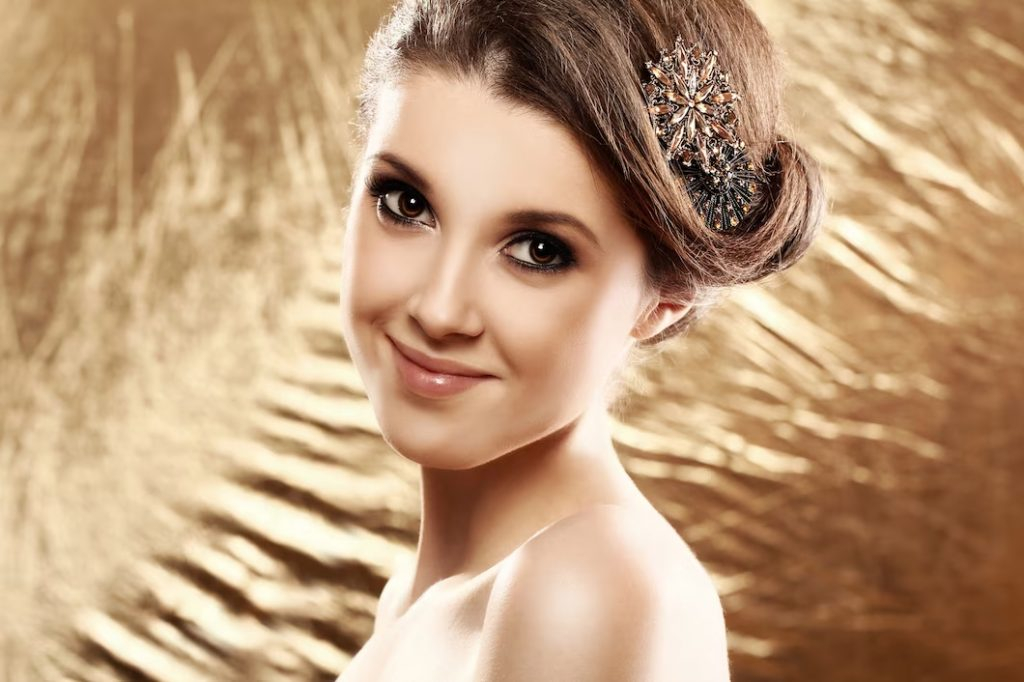 Metallic makeup is a classic and timeless look that pairs well with Indian embroidered lengthen for weddings in Kerala. Brides with fair skin can wear bronze eye shadow and shades of gold. Bronze is likewise an extraordinary choice to supplement gold gems. Highlighter and blush look great with bronze and gold tones. Brides can also complete their looks with fluttering lashes.
Metallic eye shadows are a dazzling point of convergence for wedding cosmetics. Eyes appear larger when framed by dramatic winged liner in bronze shades. Bronze is beautiful and looks great with jewelry for the temple. The look is stunning and has a divine air about it. Metallic eye shadows are a phenomenal choice for ladies who need to be different yet seem to be celebrities.
Highlighter:
A highlighter is a great way to highlight your face. This makeup tip is simple yet highly effective:
You should apply a makeup primer. This will keep the makeup in place for hours.
You should use brow gel and a brow comb for a natural-looking arc.
You can finish your makeup with a touch of mascara.
Apply the highlighter only to the features you want to highlight. For instance, you can use it on the top of your cheekbones or the center of your nose. However, you may not want to use a highlighter down the middle if you have a large nose. However, this is all about personal preference.
You can also use it to highlight your brow bones. This will make you look like a Bharatnatyam dancer. In addition to highlighting your features, you should consider applying darker lipstick to your lips. These makeup ideas are more subtle and will not distract from your wedding makeup.
Highlighter will enhance the radiance of your skin. A glowing bride will be the most beautiful bride this season. This makeup trend is endorsed by international makeup artists and celebrities. It will make your skin glow and make you look classy. It will be the makeup look of the season in 2022.
Highlighters can be cream or powder-based and will add a glow to your skin. Highlighter works well for most skin types and is perfect for contouring the face. Highlighters can be used to highlight cheekbones, inner corners of eyes, and even the chin. Highlighters can also be used to highlight lips and brow bones.
Eye makeup: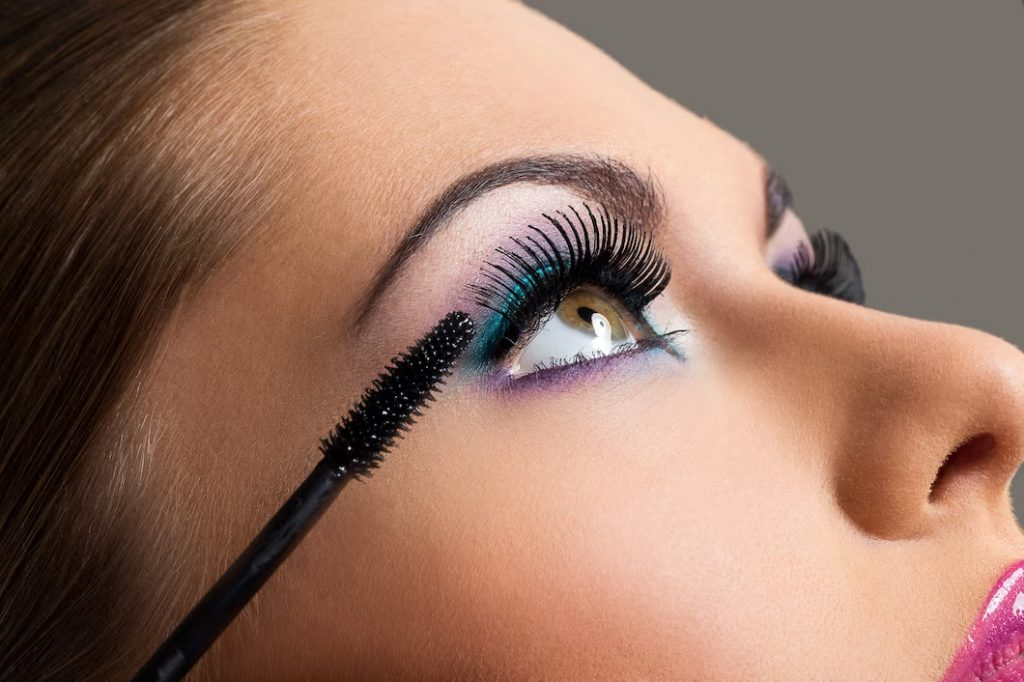 If you are getting married in Kerala, eye makeup is a must. This style of bridal makeup is renowned for its glowing effect. The bride should apply a light concealer on her face to cover imperfections and use glittery bronze or brown eyeshadow. You can also use waterproof kajal to make your eyes stand out. You should also apply two generous coats of curling mascara to give your eyes some drama. For lips, you can wear peach or pinkish red lip shades. The bride's bindi is a huge red, giving her an instant glow.
A light shade of kohl is also a must-have for Kerala bridal makeup. You must blend the eye shadow properly with an eye shadow brush. To add depth, you should use a brown coloured pencil to line the brows. Always mix the eyeshadow carefully, as overfilling your eyebrows can ruin your look. Then, apply neutral eye shades, starting from the inner corner of your eye and moving outwards, blending them well.
The key to a perfect Kerala bridal makeup look is to match the style of your outfit. Most weddings in the state take place during the day, so the makeup should complement the bride's outfit. Using a good cleanser to clean your face thoroughly and a toner appropriate for your skin tone is essential. Finally, apply a light moisturizer to keep your skin moisturized and hydrated.
Once the foundation is set, you need to start with eye makeup. You can also use a loose powder or a rosewater mixture to set your makeup. You should also apply eye primer to prepare your eyelid area for makeup. If your skin is naturally fair, you can also use a brown-coloured eye pencil to fill in your eyebrows. Remember not to overfill your eyebrows, as this will ruin your entire look.
A Bold Red Lip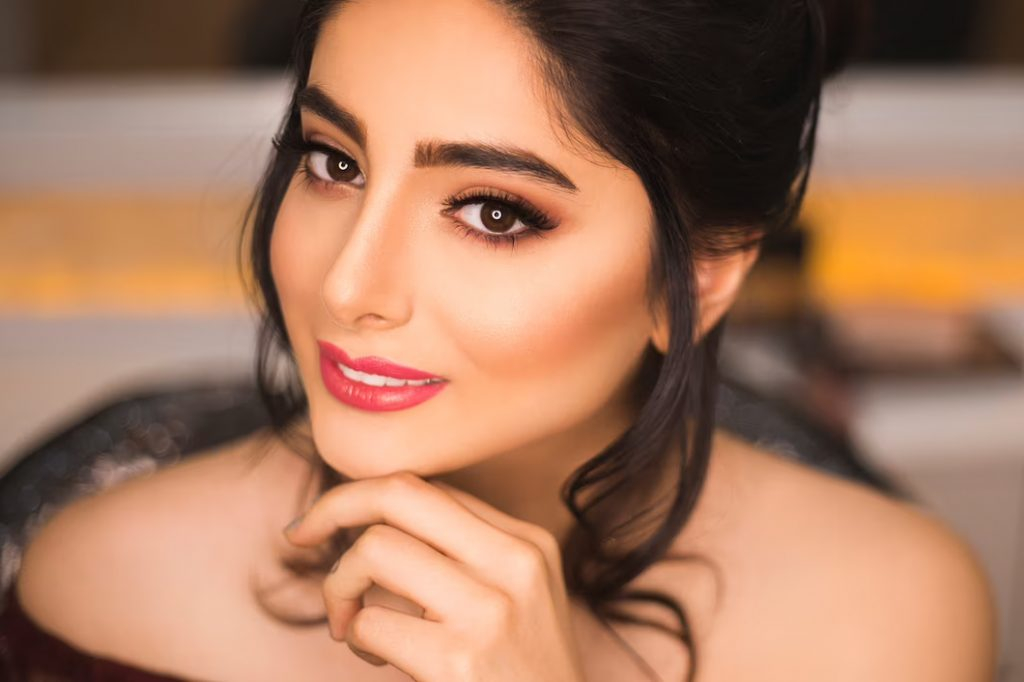 There's always room to incorporate a bold lipstick, especially when it's paired with a wedding drenched in Southwestern hues. We love the way this brave red lipstick perfectly matches the saturated notes in this couple's bouquets.